Reorganisation of directorate-general for mobility and transport
The new DG MOVE organisation chart is online. Daniela Rosca is now officially in charge of Ports and Inland Navigation. Sophie Cabanis, national expert from France, has left and Marta Wolska, national expert from Poland, joined the unit to work on technical requirements and the European Hull Database.
The former director of IWT business, Dimitrios Theologitis, will stay on as senior adviser until March 2017. As of December, Theologitis will be the assistant of the new Croatian deputy director general Maja Bakran-Marcich.
EBU, INE, EFIP and ESO met also with the new director Magda Kopczynska on 25 October. She deals with innovative and sustainable mobility affairs within DG-MOVE. It was a constructive and open meeting during which she stressed that she considers IWT as a distinct sector from maritime, but looks for coordination when relevant. At the same time, she also favours coordination with other directorates such as land transport and infrastructure.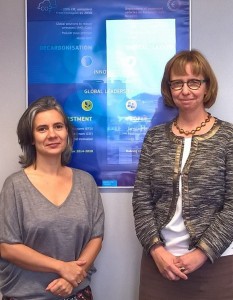 Left is Daniela Rosca, she is replacing Dimitrios Theologitis and on the right is Magda Kopczynska
This first meeting was mainly aimed at exchanging information on priorities (infrastructure, IWT in H2020, RIS review) and getting to know each other.