Inland waterway transport and ports ask Europe for an ambitious policy action plan and continuity in funding                                                                                                                                        (full text here)
Today, a coalition of inland waterway transport (IWT) and ports has handed over a declaration with its vision towards 2030 to Wim van de Camp, member of the European Parliament, and Violeta Bulc, the EU Transport Commissioner. The handing over of the declaration took place during a high-level IWT and Ports event, hosted by the Port Autonome de Strasbourg.
In a first reaction, MEP Wim van de Camp and Commissioner Violeta Bulc emphasised their support to back the sector and its initiatives to fully exploit its potentials and better integrate it into the multimodal transport chain.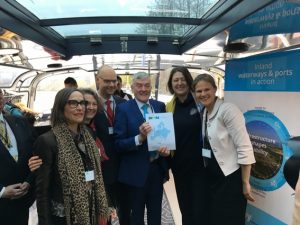 The joint declaration of the coalition explains the common vision of the inland waterway transport and ports sector towards 2030. Its representatives are convinced that green, smart and congestion-free transport and logistics serving a circular and bio-based economy, will only be a reality tomorrow if they can build on a solid policy strategy supported by sufficient and effective implementation tools. In this, their focus lies on the need of coordination, investment, legislation and innovation.
ESO's Secretary General Hester Duursema, one of the speakers (standing at the right), told the audience it would be of importance Peter van Dalen as MEP also supports the idea of a European innovation fund of 3 billion euros (resulting in a reduction of external costs equal to 22 billion euros).
Also she mentioned the fact that Karla Peijs as TEN-T coordinator of the Rhinedanube corridor added the provision of a full internet coverage on the waterways as a spearhead, and to work on a single digital document that can be used across the borders of inland shipping countries.
Background of the event
While the EU budget for the next financial period (2021-2028) is now being discussed, the inland waterway transport sector and ports want to stress the importance of a strong Connecting Europe Facility (CEF), which includes support for Inland Waterway Transport and ports. Furthermore, in 2018 the EU will focus on multimodality, improving the integration of all modes in the EU transport system.
The members of the coalition of inland waterway transport and ports are EBU (European Barge Union), EFIP (European Federation of Inland Ports), ESO (European Skippers' Organisation) and INE (Inland Navigation Europe).