Inland waterway transport and ports ask Europe for an ambitious policy action plan and continuity in funding                                                                                                                                        (full text here)
Today, a coalition of inland waterway transport (IWT) and ports has handed over a declaration with its vision towards 2030 to Wim van de Camp, member of the European Parliament, and Violeta Bulc, the EU Transport Commissioner. The handing over of the declaration took place during a high-level IWT and Ports event, hosted by the Port Autonome de Strasbourg.
In a first reaction, MEP Wim van de Camp and Commissioner Violeta Bulc emphasised their support to back the sector and its initiatives to fully exploit its potentials and better integrate it into the multimodal transport chain.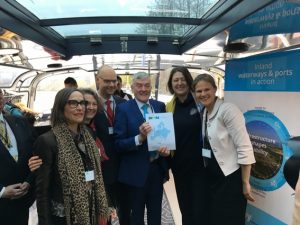 The joint declaration of the coalition explains the common vision of the inland waterway transport and